The Sundowner Cabin and Tourist Park is in Whyalla, South Australia.
Whyalla is located in the Eyre Peninsula, on the western shore of Upper Spencer Gulf, approx 394kms north west of Adelaide by road and 241kms by air.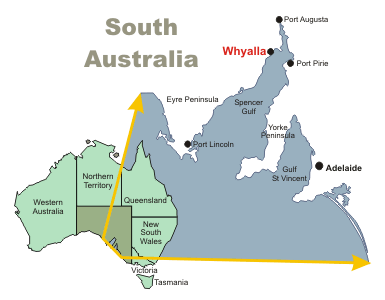 The Sundowner Cabin and Tourist Park is to be found at 226 Broadbent Terrace, Lincoln Highway Whyalla 5608. Broadbent Terrace is the extension of Lincoln Highway leading into the city centre.We are located between Racecourse Road and Heurich Terrace. The Whyalla Airport is 1.5kms east on Lincoln Highway. We are positioned between the Airport Motel and the Sundowner Hotel.
A short drive will take you to city centre, major shopping centre, beach, local attractions and services.